DÜNYANIN MÜZİĞİ
kişisel müzik yayını - www.deryaonder.com
22 Ocak 2012 Pazar
Gönderen

sepp
zaman: 13:43
2 yorum:
Bu yayına verilen bağlantılar


27 Ağustos 2011 Cumartesi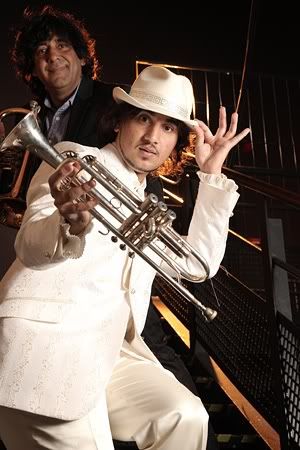 Boban Marković (Serbian Cyrillic: Бобан Марковић) is a Serbian Romani trumpet player and brass ensemble leader from Vladičin Han, frequently recognized as the greatest trumpet player to emerge from the Balkans. He and his brass band have received world acclaim and won numerous awards.
The Boban Marković Orchestra has been the leading Balkan Brass Band in Serbia over the last 17 years. They are from Vladičin Han, Southern Serbia, which can be heard clearly in their music. They have won several of the most important prizes ("Golden Trumpet", "First Trumpet" and "The Best Orchestra") at the Guča trumpet festival, called "Dragačevski Sabor", which has been held every August in Central Serbia's town of Guča, since 1961. Every year "Sabor" gathers 20 of the best bands from all parts of Serbia, as well as some 300,000 people in the audience. Winning there means more jobs for the bands, but also is so prestigious, that no one misses the festival and all the bands play for free.
Boban Marković Orchestra won the "Best Orchestra" prize at 40th "Sabor" in Guča, August 2000. They won the "Best concert 2000" prize for their concert with Lajko Felix. In Guča, at "Dragačevski Sabor 2001" Boban Marković won "The First Trumpet", which is officially the best and most coveted prize of the festival. It was the first time ever that any musician received all five "10" scores from every jury member. Since winning, he has decided to stop competing. (devamı http://en.wikipedia.org/wiki/Boban_Markovi%C4%87)
Gönderen

sepp
zaman: 01:27
Hiç yorum yok:
Bu yayına verilen bağlantılar